If the thought of shapewear has you wanting to run and duck under your bedclothes, that's understandable. Old-fashioned shapewear, especially for plus-size women, is ugly, hard to put on and about as comfortable as a barbed-wire shampoo. You've probably had more than one struggle with a tight-fitting girdle that cut your breathing off and dug hard, red grooves into your skin.
We all remember the classic scene in Fried Green Tomatoes, when Kathy Bates is asked if she has a problem with her sexuality. She snaps, "No, I have a problem with my girdle." The problem, it turns out, is that she can't get it off by herself.
We have all been there. But today's shapewear is totally different.
New Fabrics Mean New Comfort
New fabrics mean that shapewear makers can create body-hugging garments that don't dig and don't require boning. They don't squeeze, they hug. They don't dig in, they ride smoothly. Instead of flimsy elastics that roll, snap and break off, new shapewear is constructed with wide swatches of form-fitting fabric that stays put.
Today's plus-size shapewear doesn't make you look hard and rigid. Instead, it holds you firmly but comfortably. You can put these garments on and take them off easily, without gasping for breath.
Check Out the Hot New Styles
In addition to this better construction and better comfort, modern plus-size shapewear is much more attractive. It's even, dare we say it, hot.
Don't believe us? Check out the great-looking shapewear you can find at Hips and Curves or Spanx, among other retailers. You'll see details that you never would have found on those old girdles.
Slinky, sexy fabrics.
Hot colors and touches of lace.
Underwear that looks good even when you take your clothes off.
Style elements like lace, stripes and cute buttons.
What Plus-Size Shapewear Can Do For You
Make your clothes look better. Your clothes are designed to fall in certain lines. If you add shapewear, you can make sure those seams, lines and cuts all glide the way they're supposed to. You know how great you look in jeggings or ponte pants? That's because these garments give you some lift and compression, so everything you wear with them looks better. The same principle applies to shapewear. Put it on and all of your clothing will fit you amazingly well and look great.
Look great in photos. Cameras are unforgiving when it comes to showing ripples and bumps that you didn't even realize were there. Many plus-size women don't like having their picture taken for that reason. Drop that attitude and pop on a body-cinching shapewear set. With everything held in and smoothed down, you will look great in every picture. Go crazy with selfies and portraits and flaunt your outfit with no fear.
Size is not a factor. Because shapewear makes clothes look great and makes the wearer look gorgeous, it's not just for plus-size women. Many slender women wear shapewear to ensure that their clothes look perfect and there are no bumps or ripples that can show in a photograph. If you're embarrassed that you "have" to buy shapewear, forget that idea. Many of the best-dressed women you see on the street or on the screen are strutting their stuff in shapewear.
Don't flash the goods. If you're wearing a miniskirt, floaty skirt or anything else that might fly up and show more than you want to, you need some shapewear. Shapewear in in this instance works as extra-duty underwear that will give you modesty and avoid embarrassing situations. You can walk confidently and fearlessly, knowing that you won't accidentally share more than you intended.
Avoid chub rub. We all know about that uncomfortable chafing you get when you wear a skirt or a dress, especially in the summer. A pair of shapewear shorts is the ideal solution to this problem. Some women wear bike shorts, but why not wear shapewear that will also give you some support?
Wear white. If you love to wear white clothes, shapewear is a must. You'll have a layer of modest, firming underwear that keeps you from flashing through your white pants or skirt. If you're planning to wear a white wedding dress, avoid any discomfort with a shaping garment that will make your dress look its best. Shapewear in flesh-toned colors is the best choice for wearing under white.
Retro style features shapewear. Just like burlesque and other sexy retro trends, shapewear is back in a big way. And just like those trends, shapewear looks especially sexy on a curvaceous body. Women are no longer hiding their shapewear. They're wearing it with pride. You have the body to do it, so why not go for it?
What Type of Plus Size Shapewear Should You Use?
With all the styles of shapewear available, which type should you use? That will depend on the kinds of clothes you normally wear and which of your assets you'd like to highlight.
Briefs
Briefs or high-leg briefs are the shape and size of regular panties. They come up to your natural waist or just below it and have regular, panty-cut legs. Some women find high-leg briefs more comfortable as they don't dig into your thighs. Briefs often have lace and other embellishments that regular panties do, so they are often pretty and stylish. Briefs will give you support in your tummy and rear end.
Wear them with:
Jeans and slacks.
Low-waisted skirts and pants.
Short skirts.
High-waist Shorts or Briefs
These shorts have a waist that extends up to just below your ribcage. High-waist shorts cover and hold more than briefs do. They are great if you want a smooth look in your torso between your bust and waist. The legs of the panties are longer than they are on briefs, extending just below the panty line.
Wear them:
With camisoles and tanks, to give a smooth look underneath these lighter tops.
With Empire-waist or babydoll dresses and tops.
Under fitted and tailored shirts.
Body Suits
A shaping bodysuit is a great way to get allover shaping that firms and holds your bust, waist and hips. Some bodysuits end at the thigh. Others have longer legs that will also support your thighs.
The leg length is up to you. Some women find that a higher leg cut is more comfortable with pants. Other women like having the extra thigh coverage with pants. Well-made shapewear will be comfortable whichever length you choose.
Wear a bodysuit with:
A maxi dress, to give you firmness that flows into sexy folds.
Your bodycon dresses.
Your suits.
Spanx Leggings
These amazing leggings are actually shapewear that you can use as outerwear. You probably already love the way you look in leggings. Now you can take that love up several notches and be crazy about the way you look. These leggings look stylish and make your butt and legs look great. You won't want to hide anything when you strut in these.
Wear them with:
Flowy tunics.
Sexy, slinky tees.
Button-down shirts.
Camisole
A shaping camisole will keep your back and bust looking firm. This is a great choice if you're wearing a form-fitting top with a flowy skirt or pants. You can choose an open-bust style that allows you to wear your own bra. Or select an all-in-one style that you can wear without a bra.
Wear it:
With any top that reveals your back and shoulders, for a smooth and sexy look.
Under a slinky top of any kind.
With sheer dresses or tops.
Waist Cincher
Waist cinchers let you show off your gorgeous curves while holding in your waist. These cinchers often attach to garter belts or have other sexy features. A waist cincher can look good enough on its own to work as lingerie.
Wear it with:
Stockings attached to the garter for a va-va-voom look.
With a pushup bra for a knockout look.
Skirts or pants.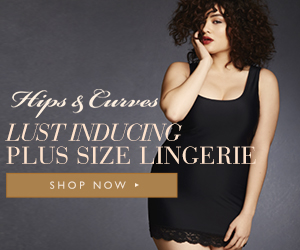 Half Slip and Full Slip
Half slips and full slips give you full, shaping coverage that's in a skirt style instead of a shorts style. These firming slips work as sexy-looking dresses when you're behind closed doors. They look great and you can wear them with your cutest thongs or garters.
Wear shaping slips with:
Loose-fitting dresses; briefs and bodysuits are better under form-fitting dresses;
Nightgowns and loungers.
Flowy skirts.
In Conclusion-Firm Up Your Shapewear Plans
There's no longer any reason to be afraid of plus-size shapewear. Today's styles are comfortable, flattering and attractive. Grab yourself some shapewear and get ready to rock your favorite styles.
Let Us Know In The Comments Below!
Do you have a favorite piece of shapewear?  Is it mentioned here?  If not, let us know what it is so we can include it.  We love hearing from you, so let us know what you think.
Please follow and like us: